Many people know that Chicago is known for its classic pizza, but not many people realize that, to most Chicagoians, pizza takes a 3rd place to hot dogs and italian beef. Today I am going to talk about Chicago-style hot dogs, or red hots are they are sometimes called.

A steamed 1/8 pound hotdog is placed inside a steamed poppy seed bun. The order in which the ingredients are added to the hot dog are as follows:
1) Yellow Mustard
2) Neon Green Relish
3) Fresh chopped onions
4) Two tomato wedges
5) Pickle spear
6) Two Sport Peppers
7) Celery Salt

Ketchup is prohibited, but really would be taste overkill with the tomatoes. It is fairly common to leave the peppers off if you are not a fan of spicy foods.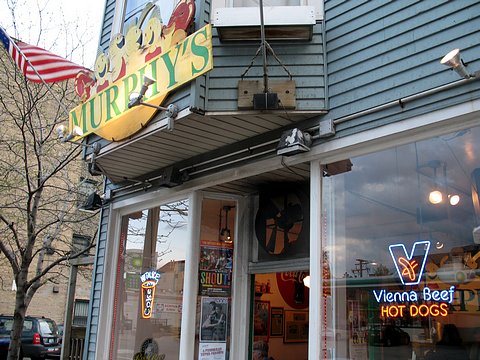 Murphy's Red Hots
1211 W Belmont Ave, Chicago, IL 60657 - 773-935-2882

This place was top notch. I'd recommend it to people that live on the north side or are in the area. The ingredients were fresh and the venue was very cute. It was the bottom floor of a fairly standard looking Chicago three flat building. It definitely has the neighborhood hot dog joint ambiance down. I also got some of their chili cheese fries. It was fine. I'd go back again if I was in the area. Probably would not venture out for this place if I wasn't.



Huey's Hot Dogs

1507 W Balmoral Ave, Chicago, IL 60640 - 773-293-4800
I have a very soft place in my heart for Huey's, primarily because it is up in my neighborhood, Andersonville. Their fries are thicker than most and I always have to eat the chili cheese fries with a fork because of the copious amounts of chili and cheese they put on it. Their dogs are cooked just right, and, if you want to try to go a bit healthier, you can subsitute a turkey dog, which I think is just as good.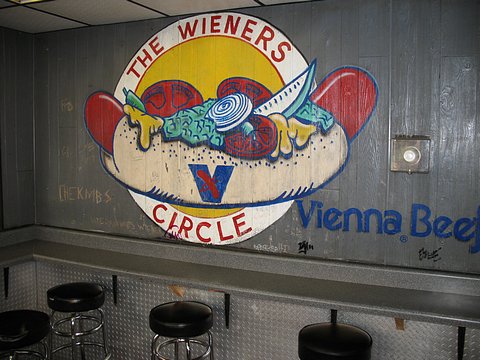 Wieners Circle
2622 N Clark St, Chicago, IL 60614 - 773-477-7444

I've gotten many a late-night hot dog from this joint. If you are going to a cubs game and want to grab a good dog before the game, I'd recomend this place. If you want one after, be prepared to wait. Instead of a tomato slice cut in half and placed atop the dog, at the Wierners Circle they put three roma tomato slices on it, which is fine, but my mouth couldn't fit around it so I had to take them off, which was unfortunate. Their chili cheese fries were good. They had alot of cheese, but enough chili with it to carry it off.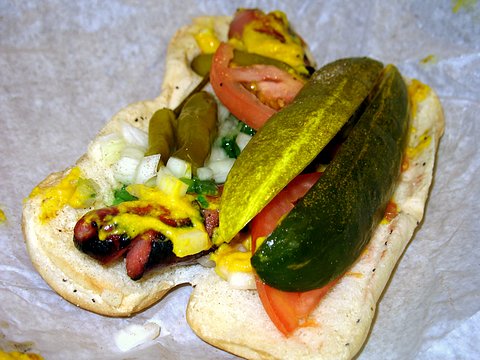 Gold Coast Dogs
Midway Airport
Out of all the hot dog places sampled for this post, Gold Coast would be the only one that I would not reccomend. I did go to their Midway airport location and perhapse it is just not done to the same level as their other venues, but I was very not impressed. Something about the flavors was not there. If you are at the airport, go with Pegasus's gyro over the Gold Coast Dog.




Portillo's
100 W Ontario St, Chicago IL 60654
Portillo's does not have the atmosphere that I associate with most Chicago hot dog joints. It is a bit more corporate and muted. However, the hot dog, while it did not stand out from the pack was well executed. If you are a tourist and want to grab a Chicago-style hot dog, but are unsure if everyone in your group is up for the experience, this is a good option becuase they have a very extensive fast food menu. Their chili cheese fries are only okay, but their onion rings are some of the best that I have ever had.




Al's Italian Beef I was highly disappointed with Al's hot dog because I absolutely love their chili cheese fries and their Italian beef. Their hot dog was under flavored. I would not recomend it.


America's Dog
26 E Randolf St, Chicago, IL 60610
This place is just plain fun. In 1993, two brothers took a cross-country road trip and sampled hot dogs along the way. This gave birth to the idea of a hot dog shop that severed up all the different styples they ran across. The Chicago style dog was spot on and flavored great. As an added bonus, these had the best chili cheese fries that I have had in the whole city. They use curly fries as their base. If you are a tourist I'd recommend this place above all others.

Hot Doug's

3324 North California, Chicago, IL 60618
Hot Dougs calls itself the sausage superstore and encased meat emporium and for good reason. They have a wide variety of different types of hot dogs and saugages. I really cannot explain it as well as just going to their site and seeing for yourself. This is a bit out of the way for a tourist, but if you are in Chicago and haven't been, you need to make the time to get out to Hot Doug's. But be warned, get early and be prepared to wait. They are only open 10-4:30 and the line often takes an hour or longer. Totally worth the wait, trust me.


In summation:
If you are a tourist and with people who like hot dogs, check out America's Dog. If you are a tourist and with people who might not all like hot dogs, check out Portillos. If you are a Chicagoian, check out Hot Dougs or Huey's.


For a more extensive list of Chicago style hot dogs go to Hot Dog Chicago Style. I got most of my pictures from that site.

My Town Monday is the brain child of Travis Erwin. For other locations to visit please go to Travis' site here.